Let's Export Properties
If you want to have a backup copy of your properties and information downloaded to your computer, you have the ability to export your properties from Profit Drive.
In a few quick and easy steps, you will have a CSV file with your properties on your computer in no time.
Objectives
In this support article, you will learn step-by-step how to export leads.
Steps
1. Log in to your Profit Drive account. Then, Click on List view located in the navigation menu.

2. You will be taken to your list of properties. Select the properties that you want to export.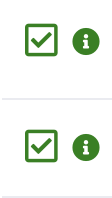 3. Click the Actions button.

In the drop-down menu, select Export.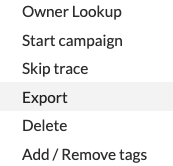 4. A CSV file with your properties and associated information will be downloaded to your computer.
Thank You!
We appreciate you taking the time to learn how to export properties! For questions, contact us at support@profitdrive.com.